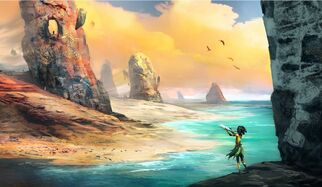 The world
Edit
The planet that the natives live on is similar to Earth.It's known to have water,lava,soil, vegetation and organisms. This planet does not have a specific name. The natives world consist of deserts,oceans,volcanic islands,tropical lands and "extreme" rocky territories.The planet has a faster erosion and vegetation growth process
Influence
Edit
The planet is considered to have a strange magnetic field which may cause the fast approching tsunamis to form in five minutes , extreme volcanic eruptions to occur quickly,and unique rock formations to exist.Music has a great influence on the planet. The music from the natives is powerful enough to divert water,lava, and sometimes a large amount of soil.It can also form a god like creature "the breath"
Ad blocker interference detected!
Wikia is a free-to-use site that makes money from advertising. We have a modified experience for viewers using ad blockers

Wikia is not accessible if you've made further modifications. Remove the custom ad blocker rule(s) and the page will load as expected.